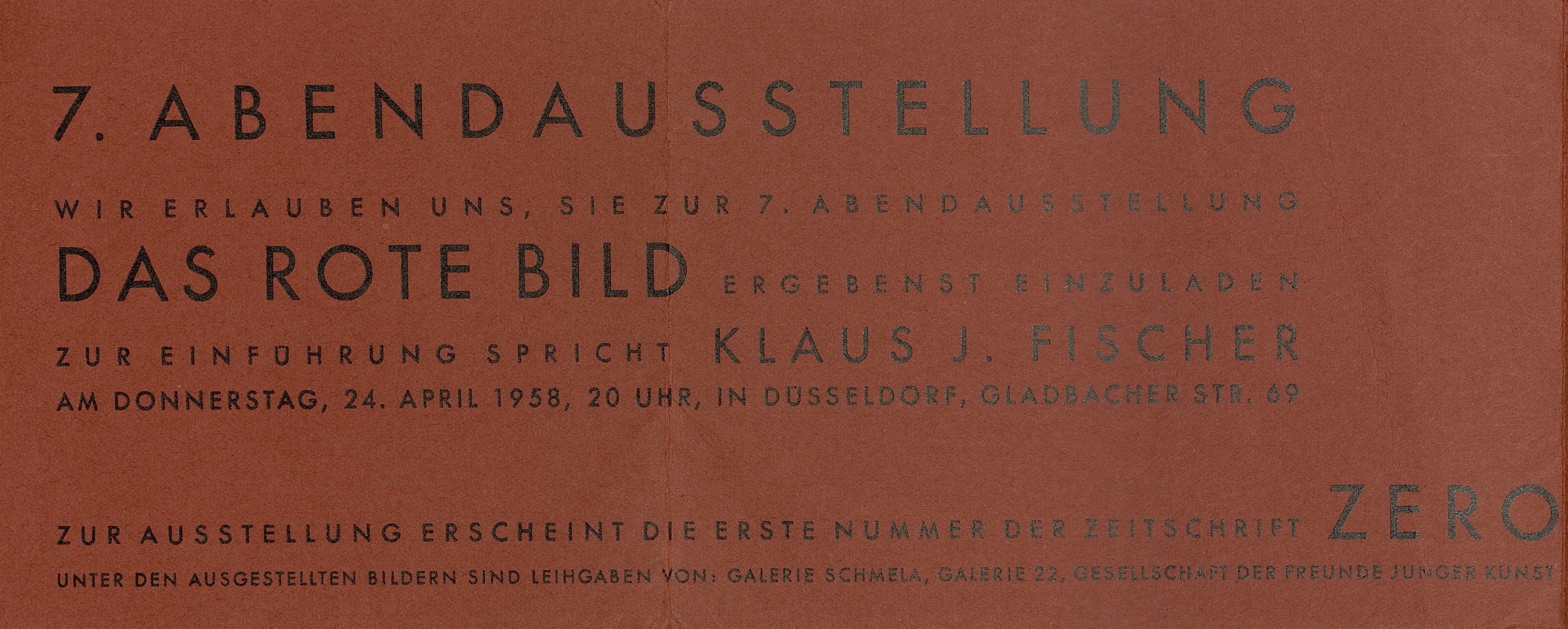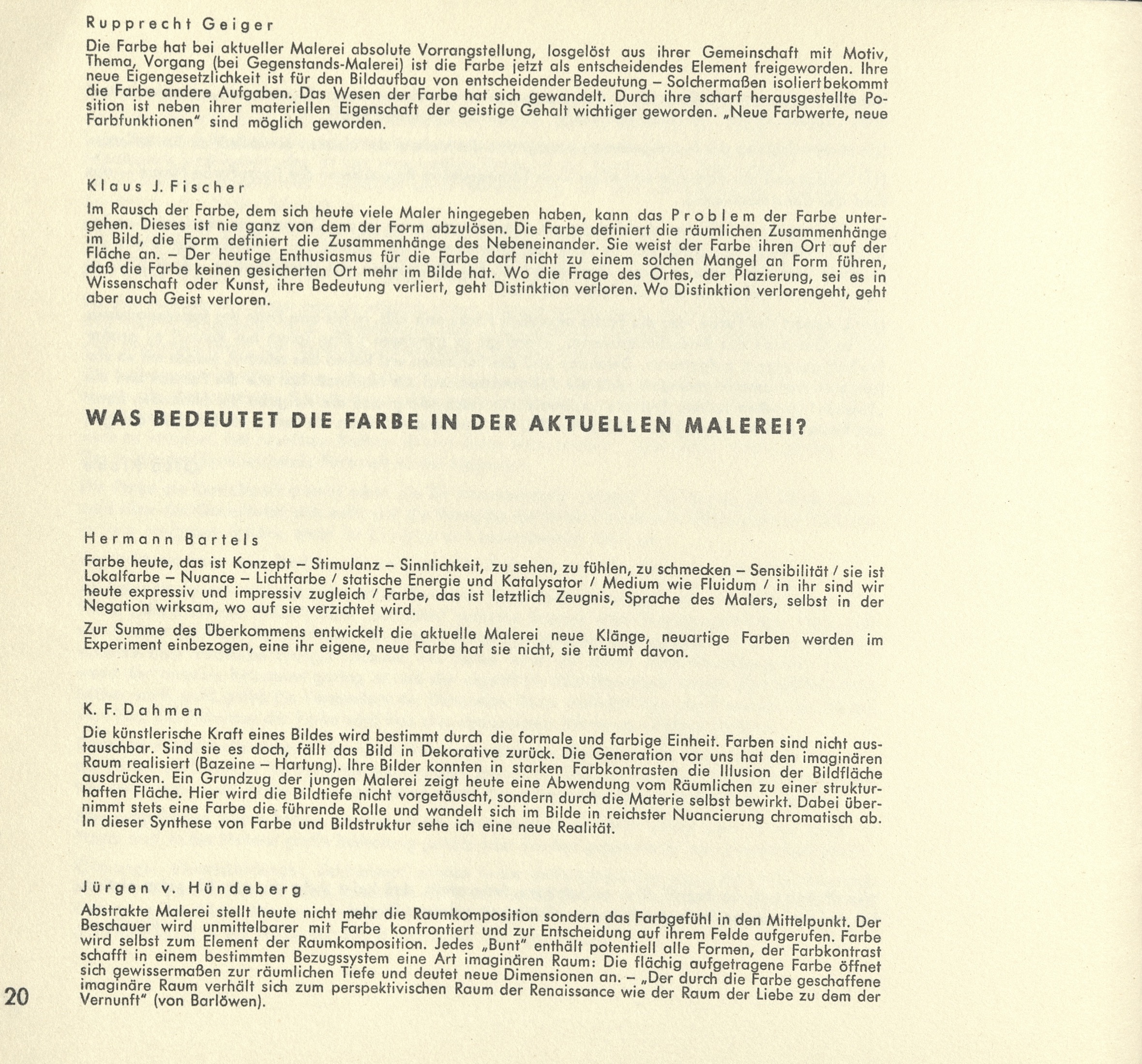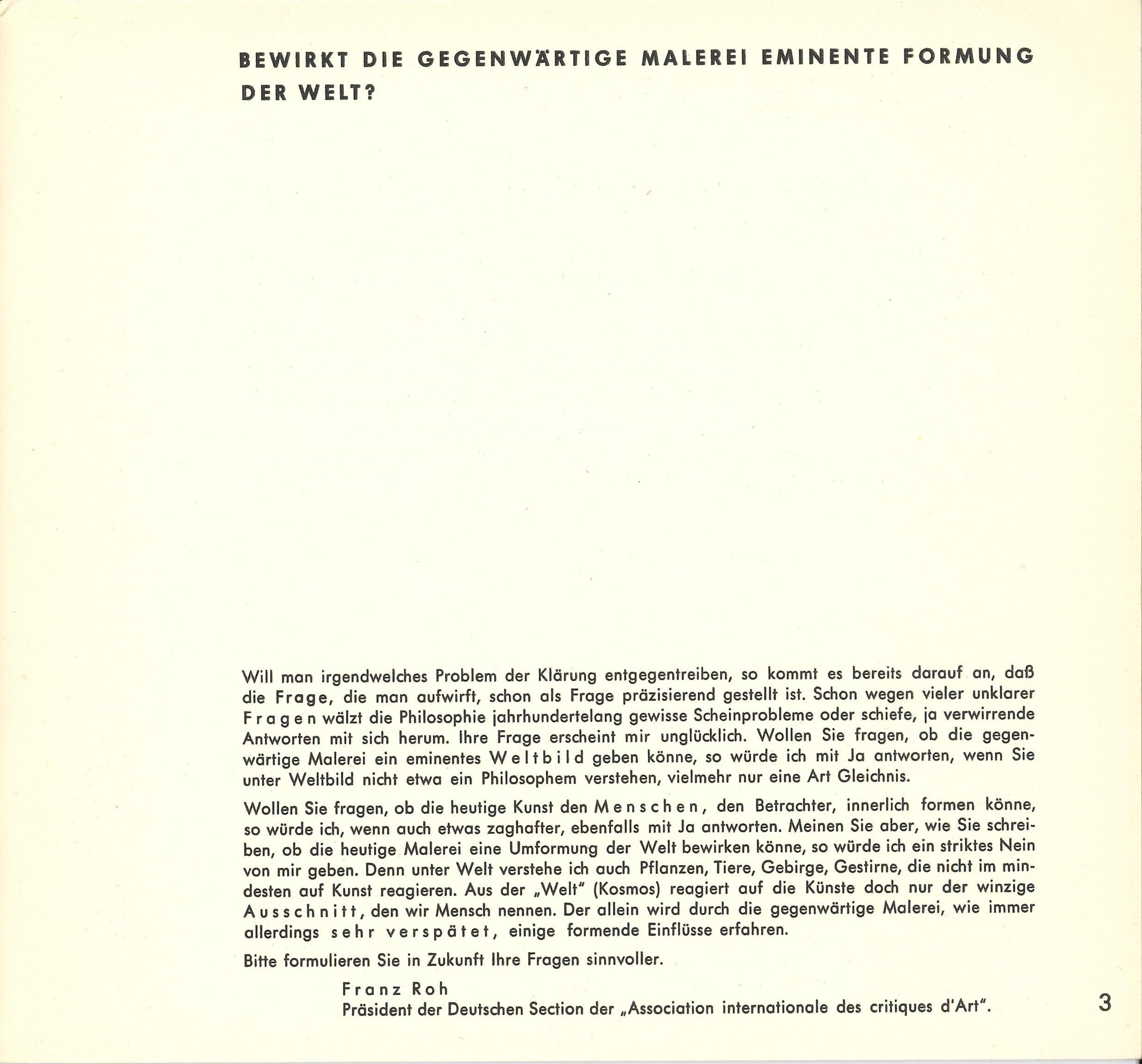 DAS ROTE BILD, 7. Abendausstellung der Gruppe ZERO, Dusseldorf, 1958
Artists: Bartels, Beckmann, Benrath, Bleckert, Boers, Brenken, Brüning, Brust, Busse, Clüsserath, Dahmen, Engert, Epple, Erb, Faigle, Fischer, Fürst, Ceccelli, Geiger, Graubner, Hoehme, v. Huendberg, Junghans-Grulich, Kaufmann, Klapheck, Kleint, Kreutz, Lückeroth, Mack, Mathieu, Mavignier, Neuenhausen, Overcott, Piene, Ritzert, Salentin, Schultze, Serpan, Siepmann, Spiess, Teilen, Thieler, Uecker, Yves. Introduction speech by Klaus J. Fischer
Venue: Studio Otto Piene, Dusseldorf
Opening: April 24, 1958, 8 p.m.
Dimensions: 10.8 x 15.1 cm (folded out 10.8 x 43,5 cm)
Further Information: Otto Piene and Heinz Mack were previously members of Gruppe 53, but left in 1957 to found ZERO, as a reaction against the lack of exhibition spaces that were willing to show the young artists. At Das Rote Bild (The Red Painting), only works that were predominantly red in color were shown, including loans from Galerie Schmela, Galerie 22, and Gesellschaft der Freunde Junger Kunst. Otto Piene and Heinz Mack also published the first issue of ZERO Magazine to accompany the exhibition. Citing Georg Wilhelm Friedrich Hegel's line that "Rot ist die konkrete Farbe schlechthin" (Red is the concrete color par excellence), the magazine asked the question: What does color mean in contemporary painting? Answers were offered by Rupprecht Geiger, Klaus J. Fischer, Hermann Bartels, K.F. Dahmen, Jürgen v. Hündeberg. In 1964, Otto Piene recalled this event as following:
"The first exhibition which followed a certain theme was the seventh night exhibition, entitled "The Red Painting" (paintings the dominating color of which is red). Encouraged by the publicity which the previous events had raised, we (Mack and I) published a catalog-magazine called ZERO 1 (April 1958). It contained articles written by some critics and statements of the artists who took part in the exhibition. The main tendency was the purification of color as opposed to the informal and neo-expressionism; the peaceful conquest of the soul by means of calm, serene sensibilization. The leading articles in the catalog came from Yves Klein, Heinz Mack, and myself. Yves wrote on his monochrome painting, Mack on vibration, and my statement was concerned with the value of color as light articulation."
(​Otto Piene, The Times Literary Supplement, September 3, 1964; read full article via the following link.)
The second issue of the magazine accompanied the 8th exhibition held in October 1958.
HR
Images: Images of the invitation and the catalog are part of the online collection of Archiv der Avantgarden, Staatliche Kunstsammlungen Dresden. Photos of the ZERO Poster in the box on the right were taken at Sammlung Marzona, Kunstbibliothek, Staatliche Museen zu Berlin.