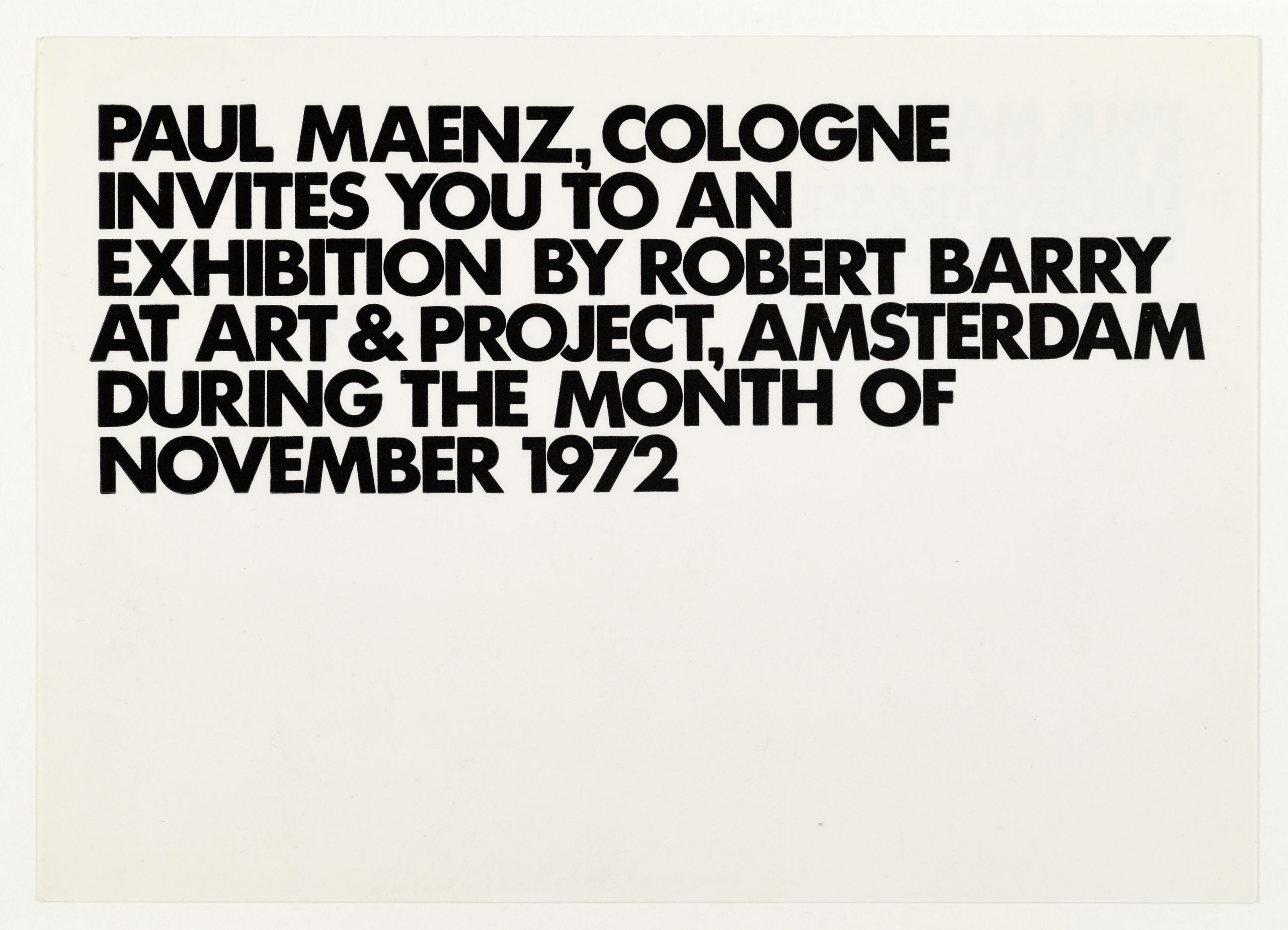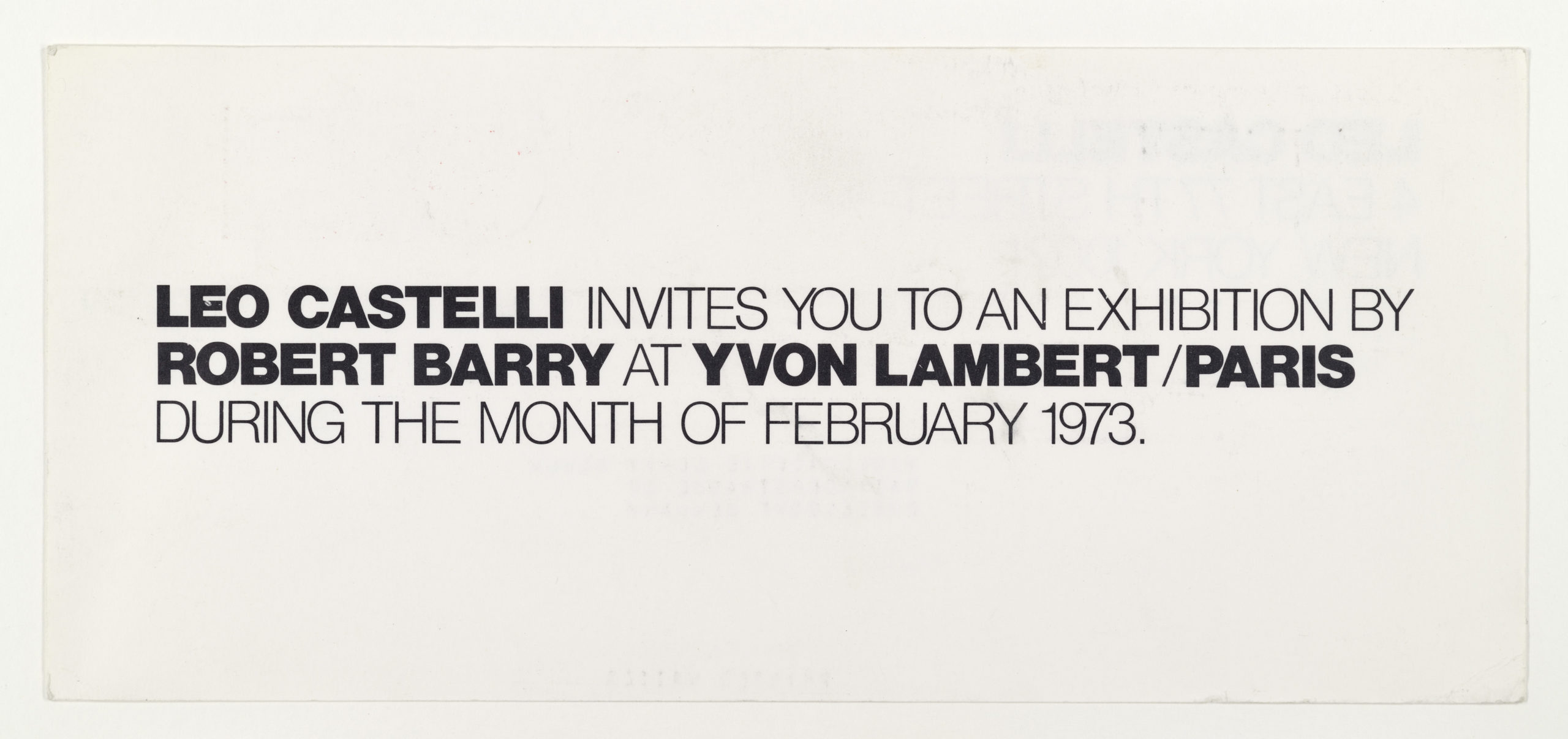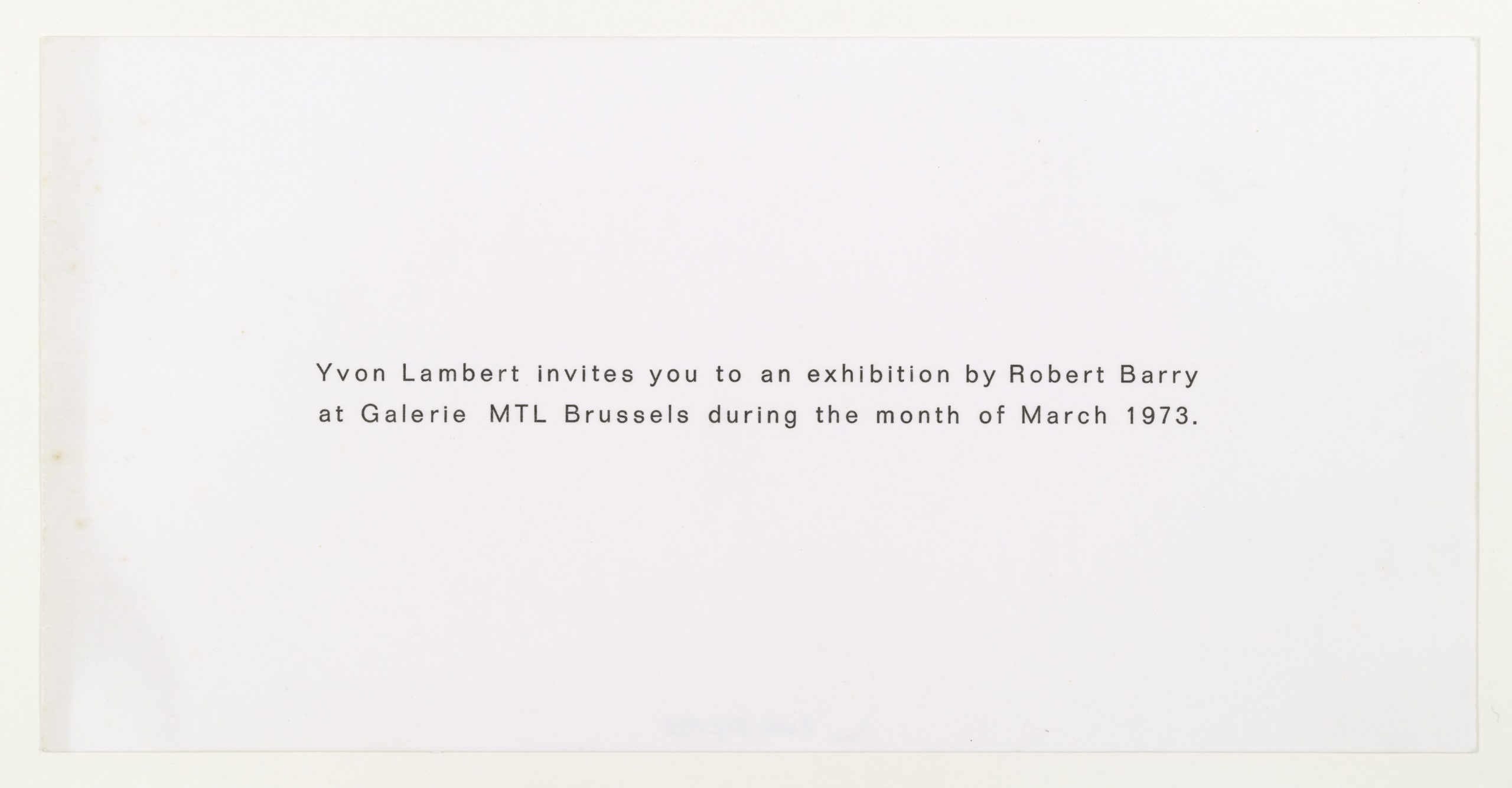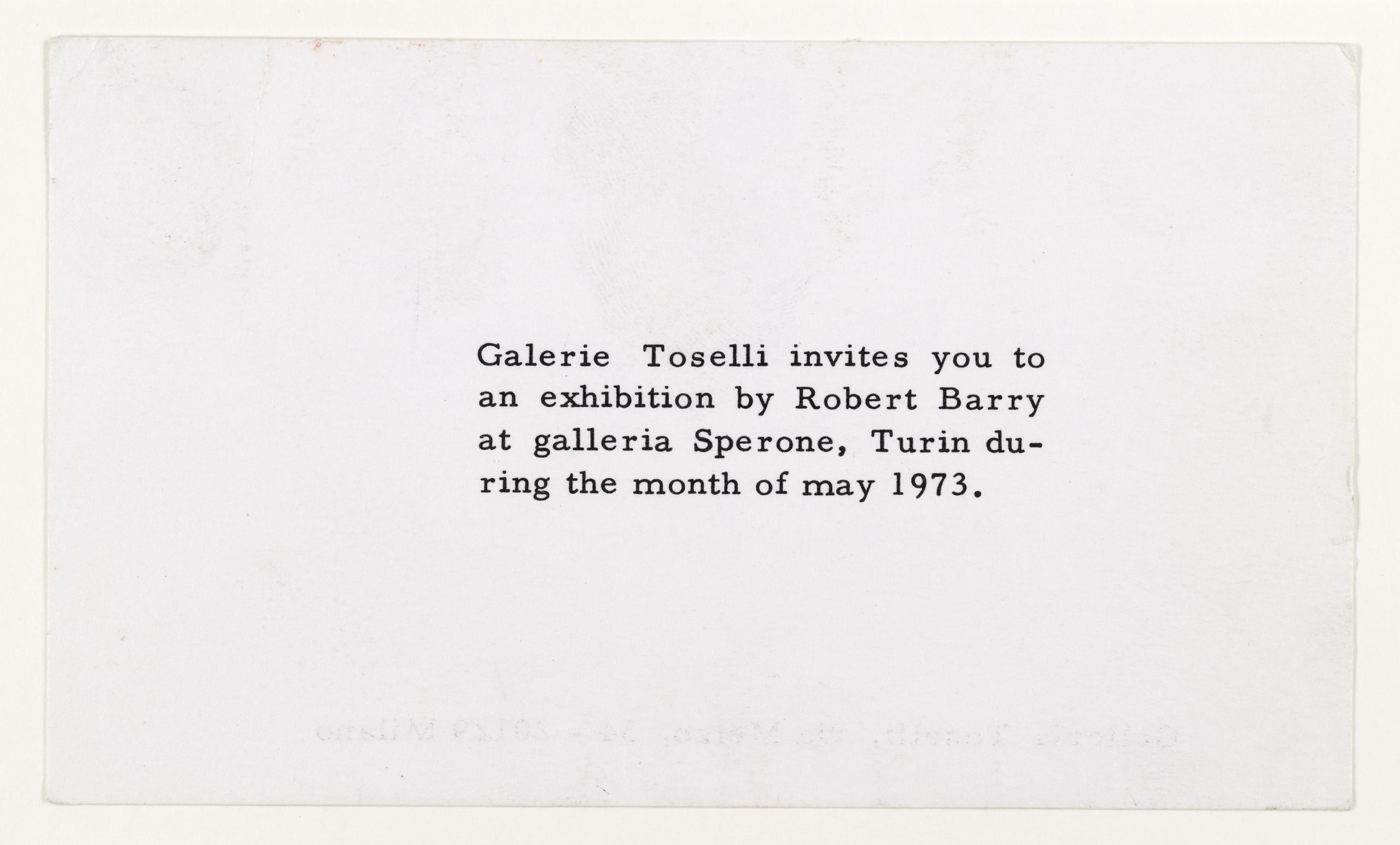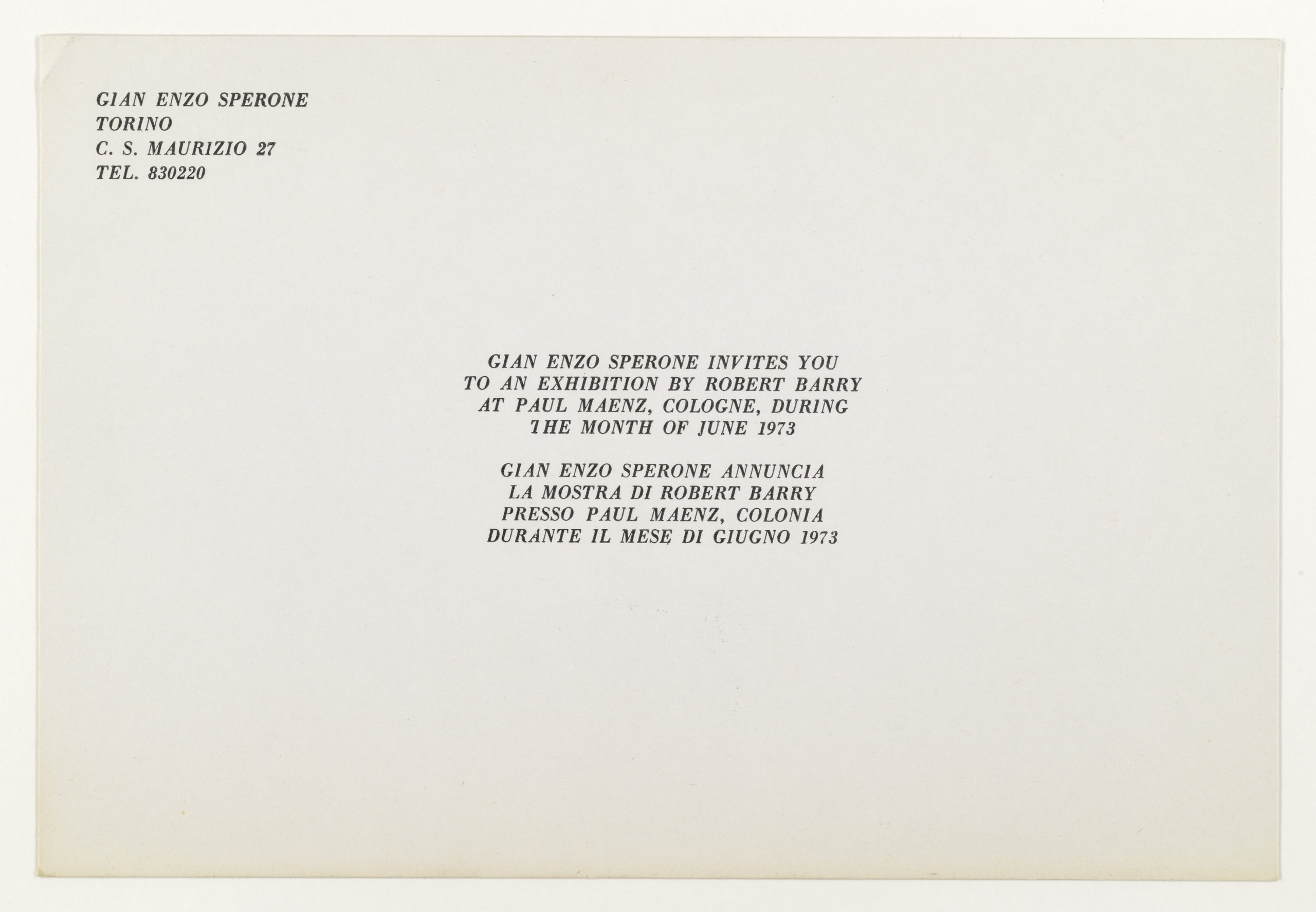 Robert Barry, INVITATION PROJECT, Paul Maenz, art & project, Jack Wendler, Leo Castelli, Yvon Lambert, MTL Brussels, Galleria Toselli, Galleria Sperone, Paul Maenz, 1972–73
Duration: November 1972–June 1973
Dimensions: Paul Maenz 10.6 x 14.7 cm; art & project 29.7 x 21 cm; Jack Wendler 14.2 x 9 cm; Leo Castelli 10.3 x 23 cm; Yvon Lambert 10.1 x 21 cm; MTL Brussels 9.1 x 14 cm; Galleria Toselli 9.1 x 15.4 cm; Galleria Sperone 13.2 x 19.2 cm

Further Information: With his Invitation Project, conceptual art pioneer Robert Barry reflected on the growing global strategic partnerships between museums and galleries that developed in the 1960s and continued in the early 1970s. Barry asked his dealers to send an invite for each successive show at the next gallery. The project ended with Galleria Sperone sending an invitation card to the Paul Maenz gallery, thereby closing the circle. (See In & Out of Amsterdam: Travels in Conceptual Art, 1960–1976, ed. Christophe Cherix, 2009).
Barry described the project as follows: "The invitation cards were sent out by the galleries during someone else's show…. It was a circle. There was no artwork by me in the galleries, just the ads, the stacks of cards inviting you to the next show." (Robert Barry, interview with Mathieu Copeland, catalogue for the Vide exhibition, Paris, Centre Georges Pompidou, 2009, p. 91, original in French)
HR
Images: All images from this invitation and other examples of works or invitations by Robert Barry on this page are part of the Sammlung Marzona, Kunstbibliothek – Staatliche Museen zu Berlin.