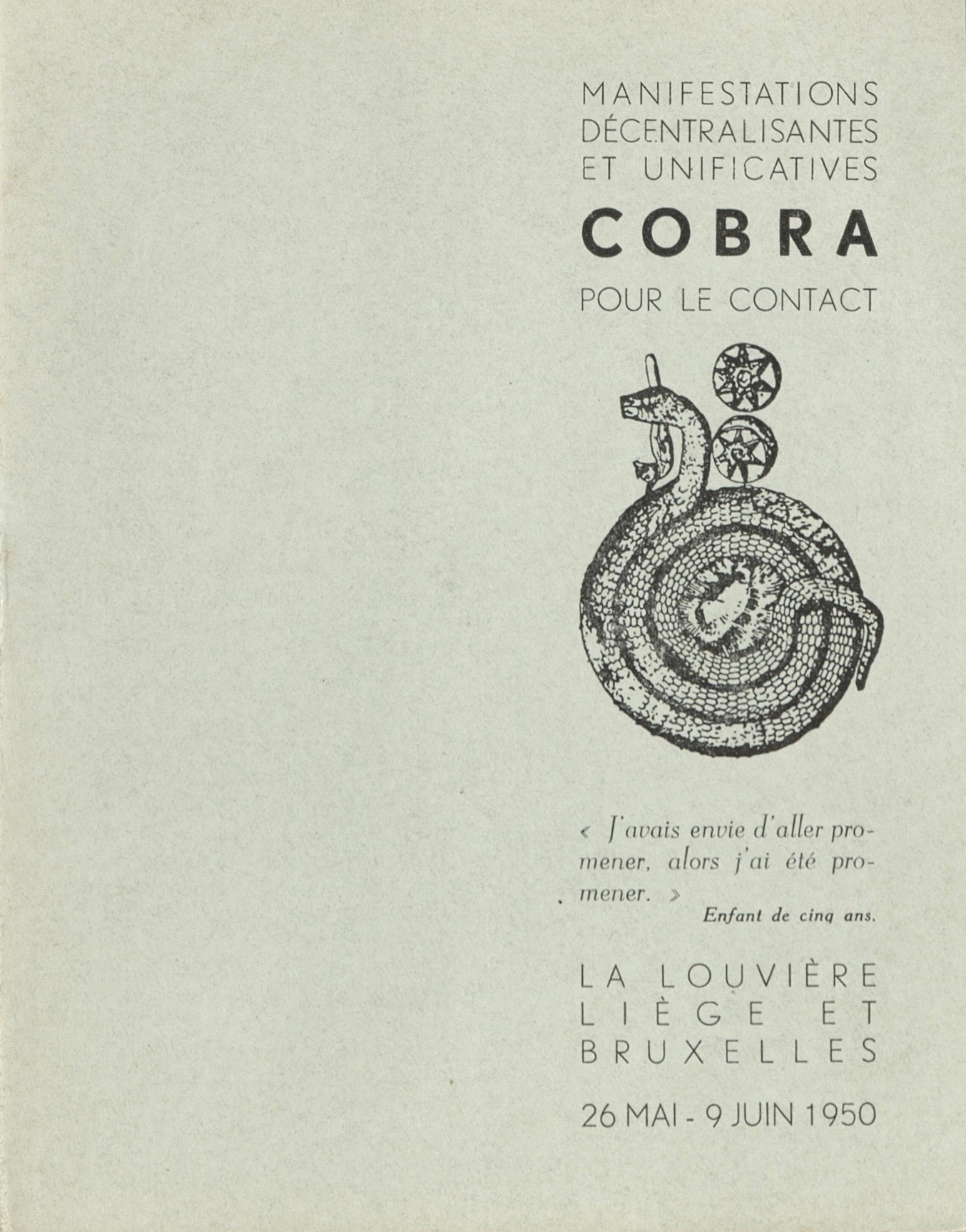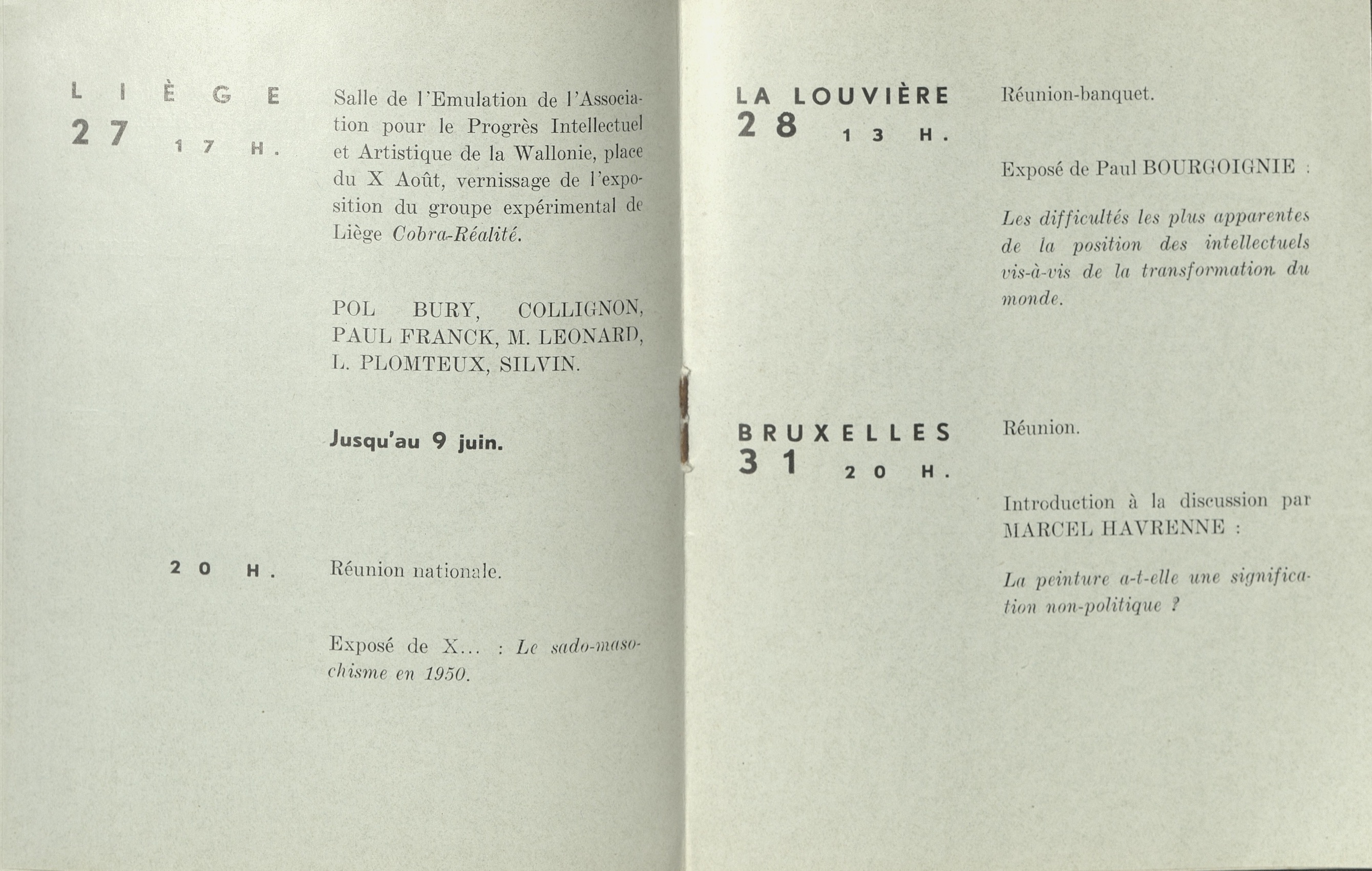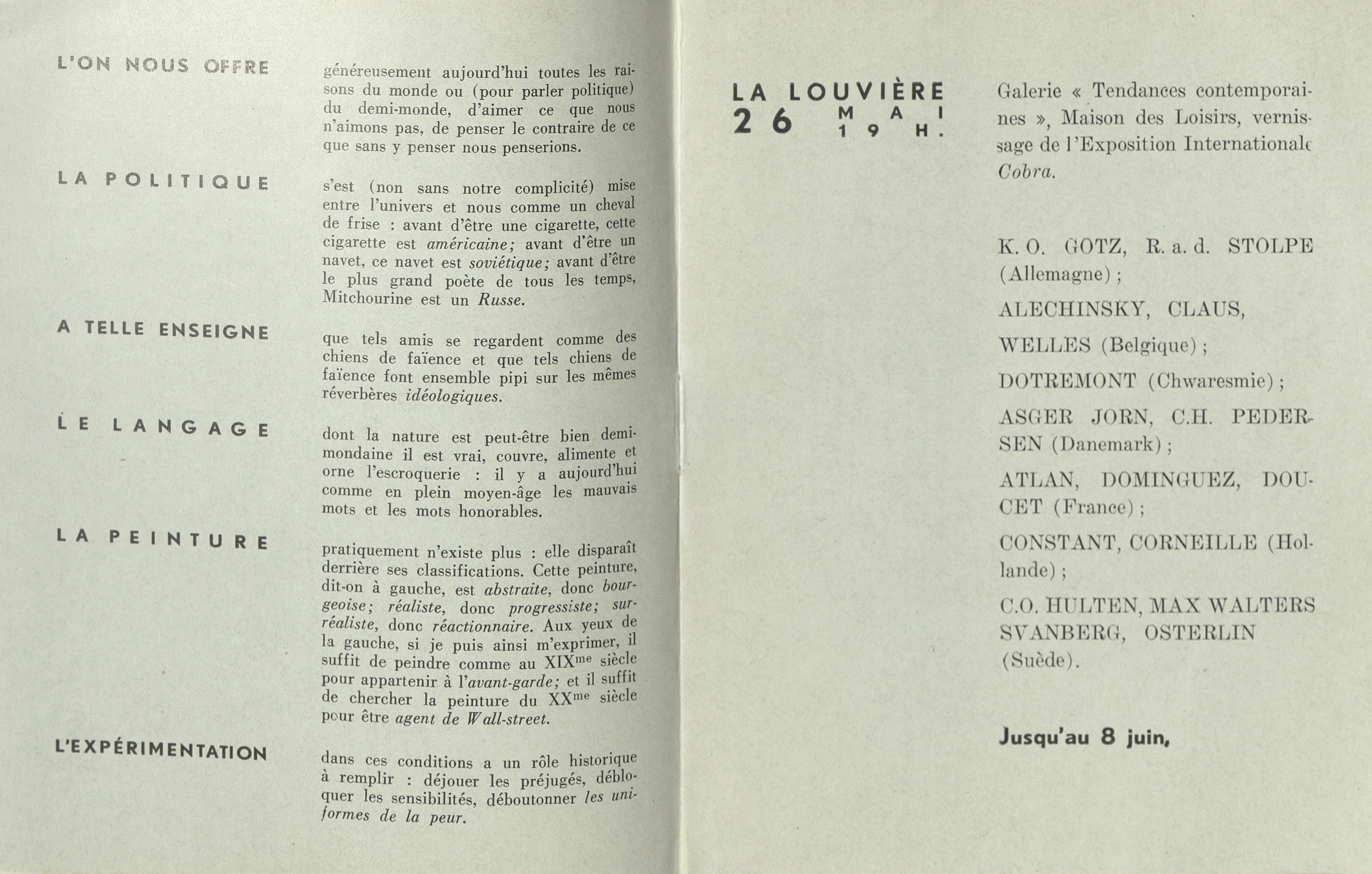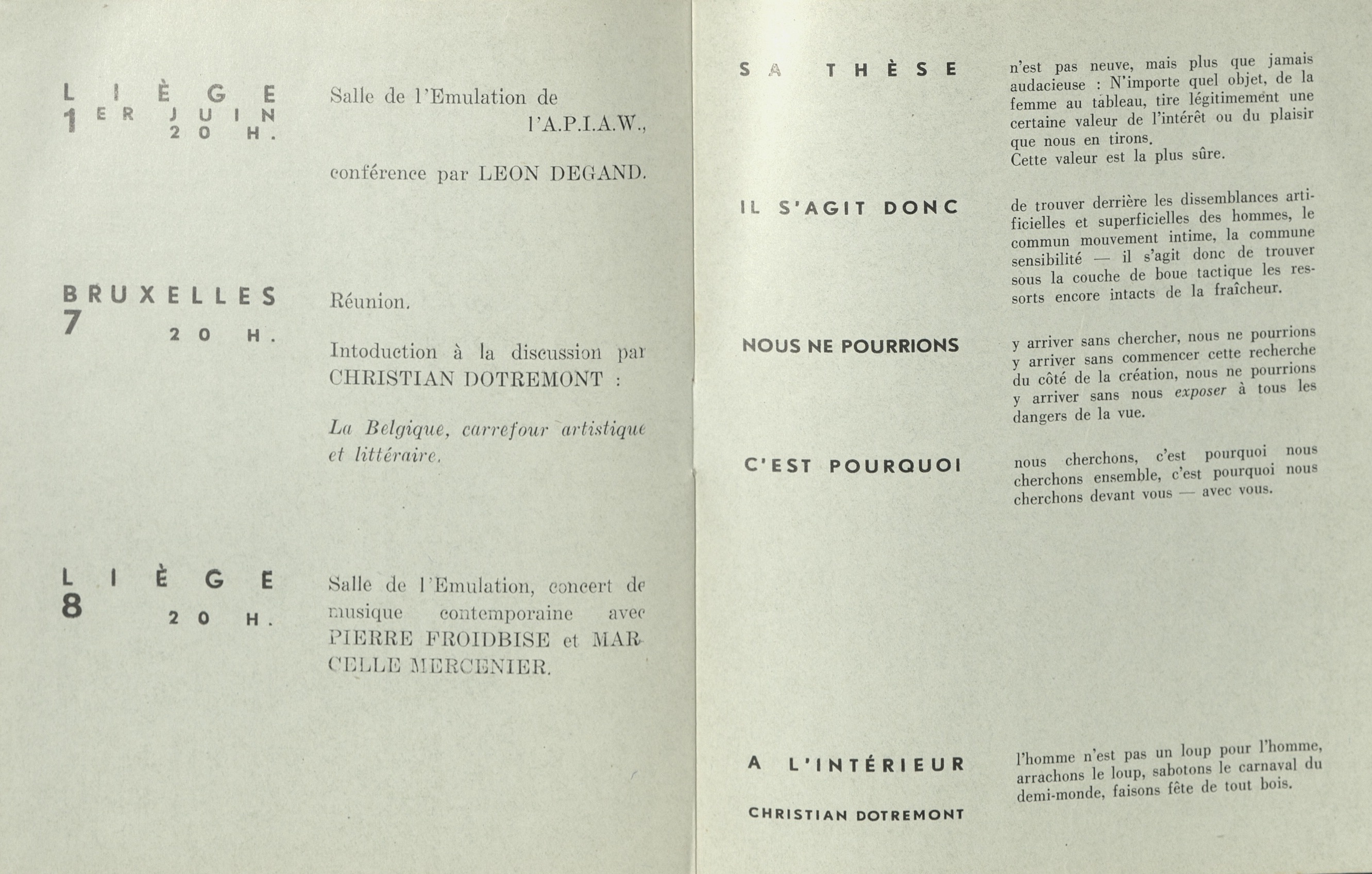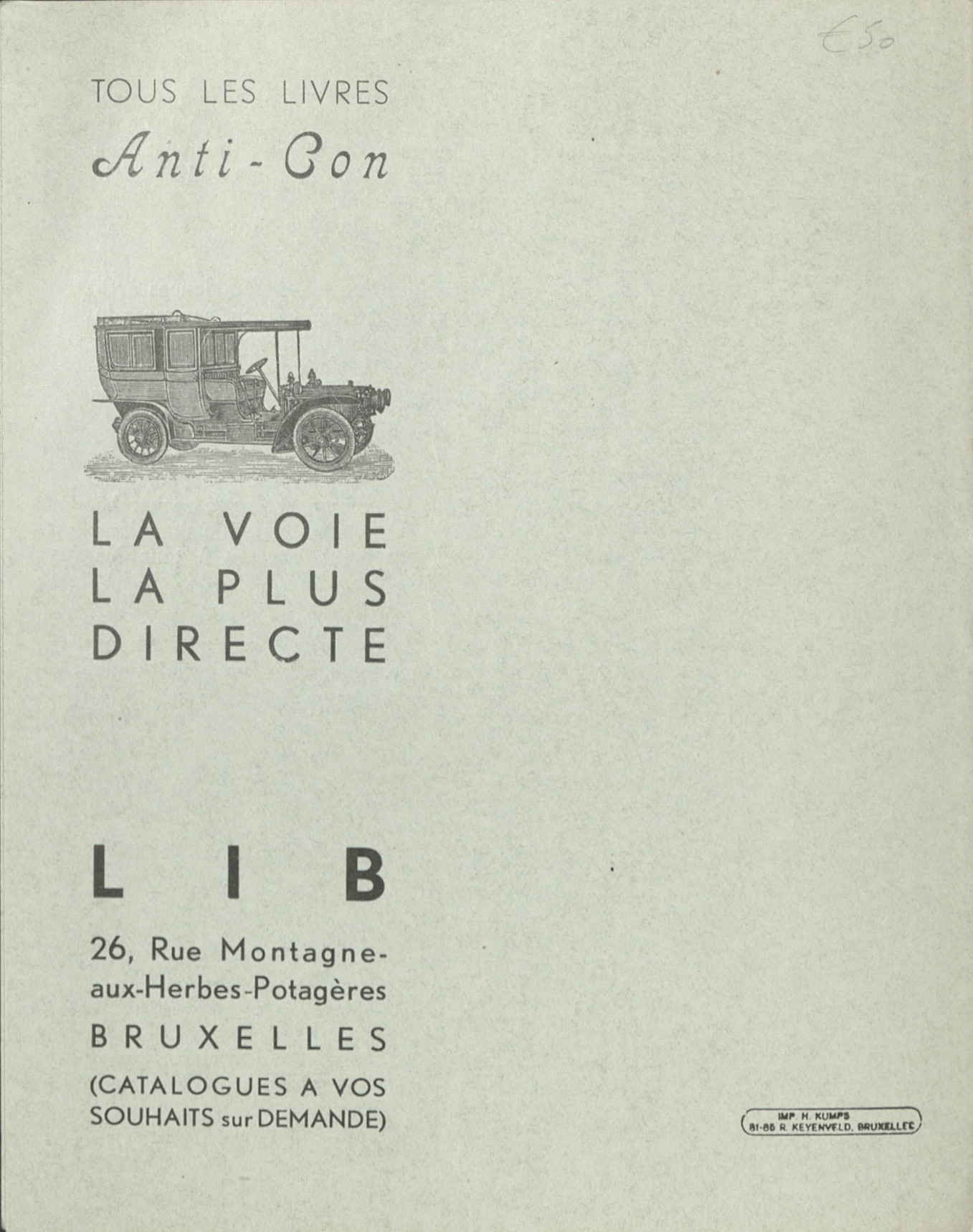 MANIFESTATIONS DÉCENTRALISANTES ET UNIFICATIVES COBRA, La Louvière, Brussels; Salle de l'Emulation, Liége, 1950
Catalogue: Manifestations, Décentralisantes et Unificatives COBRA, Pour le contact, La Louvière Liège et Bruxelles, May 26–June 9, 1950. Two exhibition openings are announced in the schedule.
—–
Exhibition: l'Exposition Internationale CoBrA
Venue: Galerie Tendances contemporaines, Maison des Loisirs, La Louvière
Artists: K.O. Götz, R.A.D. Stolpe, Pierre Alechinsky, Hugo Claus, Welles, Christian Dotremont, Asger Jorn, C.H. Pedersen, Atlan, Óscar Domínguez, Jacques Doucet, Constant (Constant Anton Nieuwenhuys), Corneille, Carl-Otto Hulten, Max Walters Svanberg, Anders Österlin
Opening: May 26, 1950, 7 p.m.
Duration: May 26–June 8, 1950
Dimensions: 15 x 12 cm
—-
Exhibition: l'exposition du groupe expérimental de Liège Cobra-Réalité
Artists: Pol Bury, Collignon, Paul Franck, M. Leonard, L. Plomteux, Silvin
Venue: Salle de l'Emulation de l'Association pour le Progrès Intellectuel et Artistique de la Wallomie, Liège
Opening/Duration: May 27, 5 p.m–June 9, 1950
Further Information: The international artist group CoBrA was founded by Asger Jorn, Karel Appel,  Ernest Mancoba, and Constant Nieuwenhuys in Paris in 1948, and quickly expanded to include artists primarily from Copenhagen, Brussels, and Amsterdam. The movement used methods such as naivety and deliberately childish styles, in opposition to the Surrealist painting style. Since animal imagery was common in their artistic practice, they used a snake as a reference for the group. CoBrA's major exhibition was held  at the Stedelijk Museum in Amsterdam in 1949, under the title International Experimental Art. The group dissolved in 1951.
ALW, HR
Images: Images of the invitation and all other archival documents shown on this page are part of the online collection of Archiv der Avantgarden, Staatliche Kunstsammlungen Dresden.