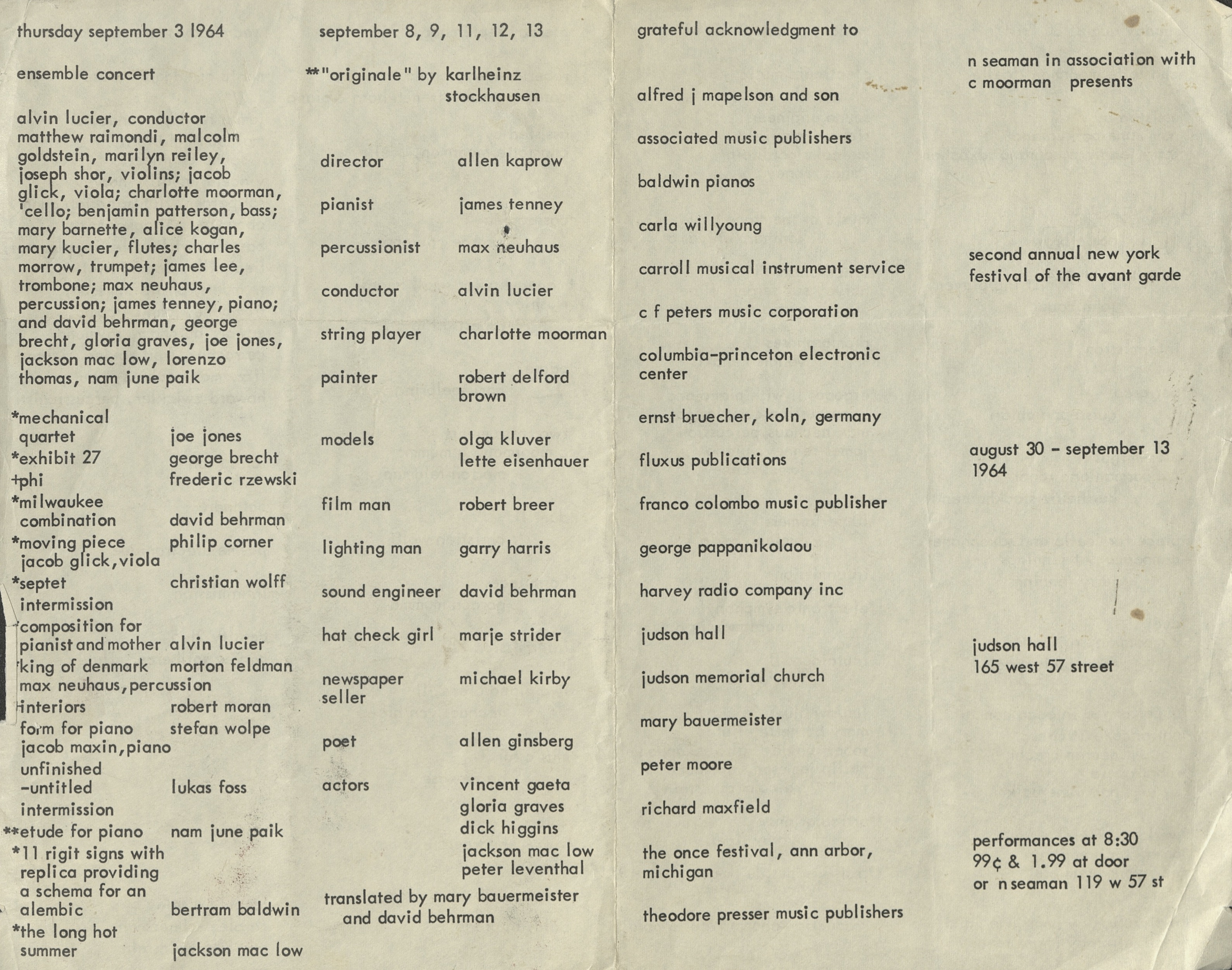 2ND ANNUAL NEW YORK AVANT GARDE FESTIVAL, Judson Hall , New York, 1964
Artists: Robert Ashley, David Behrman, Robert Breer, Lette Eisenhauer, Allen Ginsberg, Jacob Glick, Malcolm Goldstein, Allan Kaprow, Olga Kluver, Alvin Lucier, Jacob Maxin, Charlotte Moorman, Gordon Mumma, Max Neuhaus, Nam June Paik, Paul Price, James Tenney, Christian Wolff, Florence Wightman
Organized by: Charlotte Moorman
Venue: Judson Hall at Judson Memorial Church
Duration: August 30–September 13, 1964
Dimensions: 35.5 x 12.7 cm
Further Information: Organized by Charlotte Moorman for 15 years in total, the second Annual New York Avant Garde Festival took place at Judson Hall next to Judson Memorial Church. This was an important non-profit location for early avant-garde performance and postmodern dance, a loose movement often referred to as the Judson Group. The festival comprised events, plays, or concerts each evening for two weeks, and also included the US premiere of the play ORIGINALE by experimental musician Karlheinz Stockhausen. During the festival, Nam June Paik and Charlotte Moorman met for the first time, developing a close friendship that resulted in several collaborative performances. Their first mutual concert took place under the title Variations on a Theme by Saint-Saëns shortly after the festival.
Yoko Ono, Moorman's former roommate, recalled meeting Moorman in 1961, when Ono needed a performer for her piece Of a Grapefruit in the World of Park at the Carnegie Recital Hall. They became friends, and Ono encouraged Moorman to enter the Fluxus movement. In 2005, Ono remembered: "In early 1962, I went back to Tokyo. When I returned to New York in 1964, I discovered that Charlotte had produced concerts of all the other avant-garde composers while I was gone. Most of them were guys who were rather mean and nasty to me. She knew that. So I was hurt. I felt like she had betrayed me. So I said, 'Charlotte, why did you do that?' She looked at me, wide eyed, and said 'Yoko, I was lonely.'" (Yoko Ono, "Foreward," (from 2005) in Joan Ruthfuss, Topless Cellist: The Improbable Life of Charlotte Moorman, Cambridge: MIT Press, 2014).
ALW, HR
Further Links: https://www.judson.org/#welcome
Image: Images of the invitation and all other archival documents shown on this page are part of the online collection of Archiv der Avantgarden, Staatliche Kunstsammlungen Dresden.